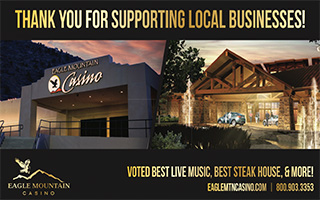 (Eagle Mountain Casino, Porterville, CA 93257) –
The Porterville Recorder released its annual Reader's Choice Awards, and Eagle Mountain Casino was the winner of multiple awards, including Live Music. In addition, Eagle Mountain Casino's award-winning dining restaurant, The River Steakhouse, was awarded Best Locally Owned, Overall Restaurant, Best Steak, & Best Soup.
Eagle Mountain Casino produced successful sold-out concerts in 2022 including popular Hispanic group, Bronco and legendary hip hop artist, Bone Thugs-N-Harmony. The River Steakhouse continues to win awards for dining that is led by Chef Manuel Carbajal who frequently visits KMPH Great Day Morning Show and provides live cooking demonstrations and recipes to Central Valley television viewers.
The Grizzly Food Court, located inside the Casino, also received awards for Best Business Lunch and Best Sunday Brunch.
Eagle Mountain Casino won a variety of Favorite Awards including Favorite Senior Special, and the casino offers weekly senior specials including the "Golden Days 50+" promotion that takes place every Wednesday and ends December 28, 2022. Guests ages 50 and older can earn a chance at a virtual drawing at 2pm to win a share of $2,000 in cash and prizes.
Porterville Recorder's Reader's Choice Awards also awarded Eagle Mountain Casino for the Favorite Award in Coffee, Dessert, Caterer, Fine Dining, Fried Chicken, Hamburger, Ice Cream/Yogurt, Lunch, Mexican Food, Salad Bar, Sandwiches, Seafood, Birthday Venue, Bakery, Breakfast, and Burrito.
This year Eagle Mountain Casino celebrated its 26th Anniversary and the excitement continues to build as the road to relocation is underway. The new property will feature the award-winning The River Steakhouse, Yokuts Coffee House featuring Stafford's Chocolates, and Food Court. In addition, it will introduce The Redwood Taphouse, 24-Hour Acorn Diner, and Center Bar for the 21 and older.
Currently, Eagle Mountain Casino is located 17 miles east of Porterville and is a full-service casino owned and operated by the Tule River Tribe. Guests must be 18 years of age to enter. The Casino is open 24/7. In addition, the Grizzly Food court is open 24/7, and the River Steakhouse is open Friday – Sunday from 5pm – 10pm. Eagle Mountain Casino is a short drive from Bakersfield or Visalia.
The new casino property is scheduled to open soon, off Highway 65 in Porterville, CA, next to the Porterville Fair Grounds. The new property will double in size, growing to over 100,000 square feet, featuring new dining options, 1750 slot machines, 20 table games, and a 2000-seat state-of-the-art event center.