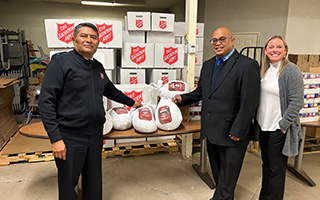 Earlier today, Eagle Mountain Casino donated 100 turkeys to the Salvation Army of Tulare County for families in need of a Thanksgiving meal.
"We are so appreciative of Eagle Mountain Casino's generous continued donation" said Hollie Slater, Donor Relations Director at The Salvation Army Golden State Division.
Due to recent shortages, it was difficult for the Salvation Army to receive the donated turkeys in time.
"The rising prices along with the shortages was going to make it very difficult for families to purchase a turkey for Thanksgiving and we are thankful for Eagle Mountain Casino's generous donation during these difficult times", said Slater.
The official turkey distribution date for Tulare is going to be November 21st for pre-registered families.
"We have been supportive of this cause for many years, and I know turkey prices have been through the roof this year and a national turkey shortage. We ordered early as we wanted to be able to do our annual donation to the Salvation Army", said Ador Cardenas, Marketing Director at Eagle Mountain Casino.
In additional to the donated turkeys a full box of trimmings and canned goods will be included for families in need to enjoy a full thanksgiving dinner.
"Thank you to Eagle Mountain Casino for their support every year, and because of their support many families will have a better Thanksgiving sharing a hot and nutritious meal", said Major Julio Vasquez, the core officer for the Salvation Army of Tulare County.
For more information on how you can receive more information about the Salvation Army of Tulare County or donate please visit their official facebook page or www.tulare.salvationarmy.org
Currently, Eagle Mountain Casino is located 17 miles east of Porterville and is a full-service casino owned and operated by the Tule River Tribe. Guests must be 18 years of age to enter. The casino is open 24/7. In addition, the Grizzly Food court is open 24/7, and the River Steakhouse is open Friday – Sunday from 5pm – 10pm. Eagle Mountain Casino is a short drive from Bakersfield or Visalia.
The new casino property is scheduled to open soon, off Highway 65 in Porterville, CA, next to the Porterville Fair Grounds. The new property will double in size, growing to over 100,000 square feet, featuring new dining options, 1750 slot machines, 20 table games, and a state-of-the-art event center.